Most of us with a thing for fashion tend to focus mostly on clothes and forget about the
down-south
, the footwear.
Well, as a true believer in the words
a girl can't have too many pairs of shoes
(and God knows I've done my best to live in the true meaning of that phrase), I offer you this falls trends in fashion-walkers.
First of all we should turn our attention to the heel, that is in a great variety as far as shape and style count.
1.Still in fashion, but with a twist, we have the
stiletto heel
. The only difference between the classic one and the fall's 2008 one is the combination with the platform. Could there be anything sexier?! So, look for slim, perfectly straight and as high as possible stilettos!
2.We feel the retro vibe with
heels so chunky
that for the first time you'll feel you got your money worth. Not only plus-sized as far as the look, but truly comfortable, think heels are a must have this fall. Remember, it too has a straight line, looking just like a perfect cylinder/cuboid(aren't I the math wiz here...)!
Now, go out there and get yourself a pair of sturdy heels, that will make your mother proud!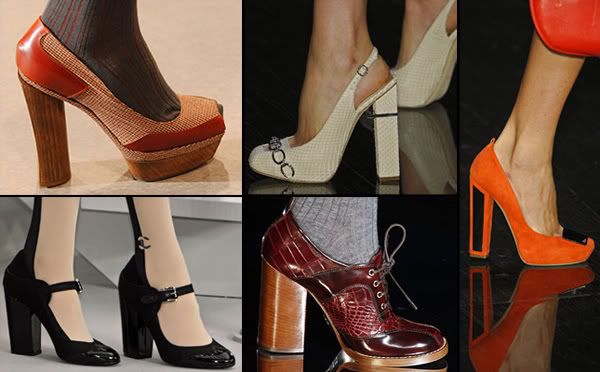 3.
They are called
tapered heels
and as far as this season goes, they are the new kids in town. The great thing about them is the fact that they combine the best of the two others: starting thick at the heel and getting slimmer and slimmer toward the ground (I call them pointy heels...it just makes it easier).
Tapered heels look slick and dangerous, in less words: extremely SEXY!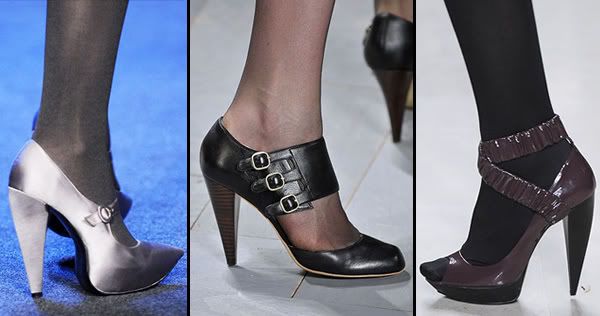 As far as toes are concerned, everything goes!
4.
Pointy or rounded. Yes, again the
extra-pointed toe
seams to be in style (and just awhile ago it was OUT)->I don't get it! Sorry, but a decision must be taken regarding this matter! Until then, it's up to you!
5.
For the lady like: the
square toed
shoe is back in business! It's been a while since we've seen it around, but all that is about to change. The perfect square shape promises a great come-back. Even so, remember: don't go too far, 'cause we are talking about shoes with a little square-finishing at the toe.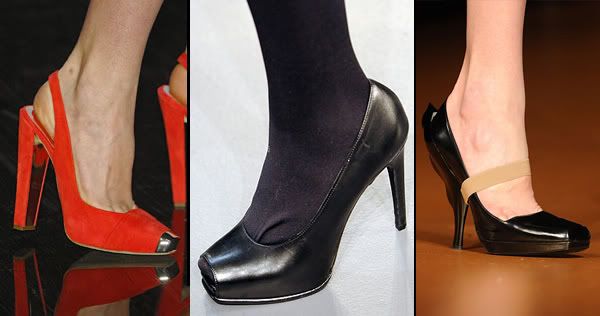 6.
Shoes too have accessories and this season,
laces are in
! No matter what type of shoe or boot you are wearing, don't forget to tie-up for a sexy Victorian-British-school girl-mistress look!
Wow...a look that really can say a lot about you!:))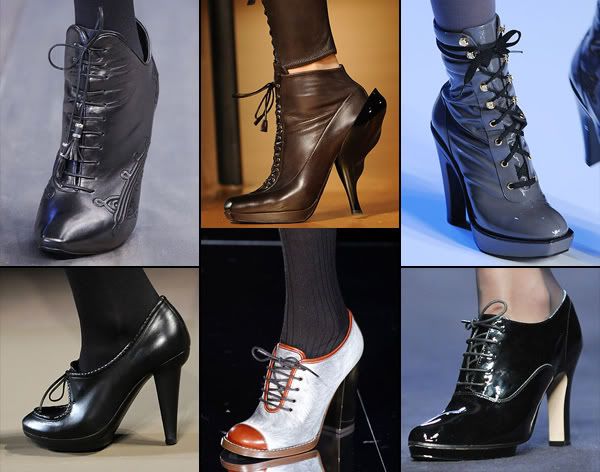 7.
Still in style, one of the most loved type of shoes, the
Mary Jane
offers a different version! No longer providing a clean, sweety like look! Higher heels, platforms and many other different accessories, make the Mary Jane Shoe the perfect vamp id.
In a fashionable way, that is.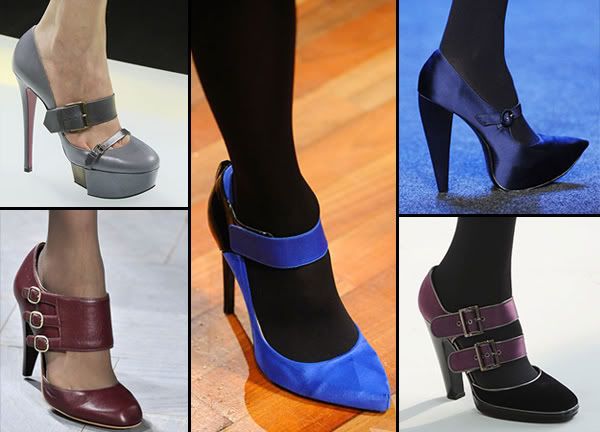 8.
Since we are talking about the cold season, shoes made out of cold-blooded
reptile skin
seem more then normal! Natural or fake, it doesn't matter (we are still in the Eco mood), as long as it's of good quality!
Keep one word in mind: luxurious!
9.
If you like being comfy, go for the
folk trend
. The shoes featured here are mostly inspired from the American-Indian footwear: boots featuring fringes, studs and tooled leather.
All this for a great bohemian feeling.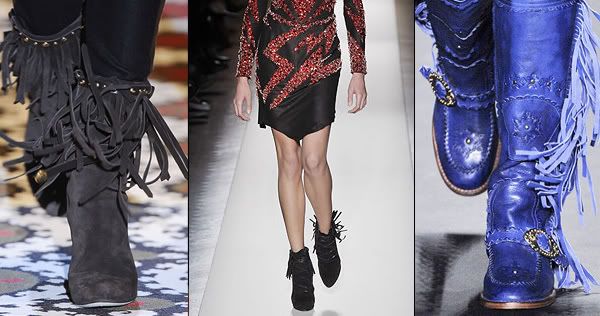 10.
In my favorite department (colors) all is good, because shoes come in combinations of 2, even 3 different
tones and colors
. Highlighting the craftsmanship of the shoe is the main idea in this trend.
Coloring each element different then the other (contrasting straps, or heels) is not only stylish, but also FUN.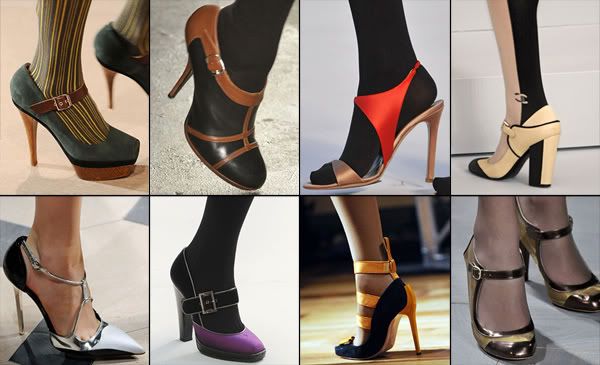 11.
Because they know it's hard for us to let go the sunny summer days, designers offered a compromise: the
open-toe shoes
and even boot. Oh...and did I mention that wearing tights/socks/stockings underneath them is a must? Yes, this not long ago fatal combination is now very fashionable.
Same color is preferred (back on black), but for the younger generation I recommend electric colors, or even colors in contrast(red with green and so on).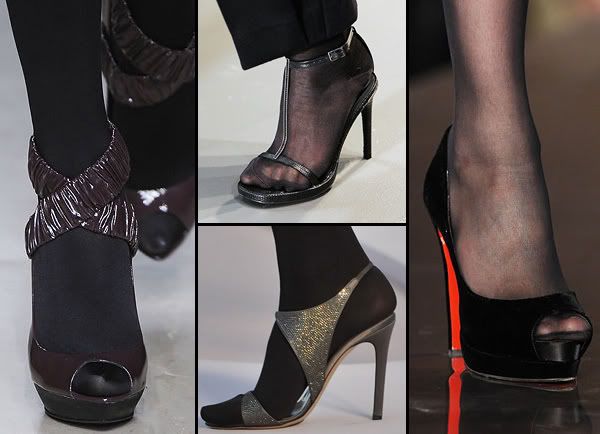 12.
I saved the best for last.
Tight high over the knee boots
are the IT thing right now, but there is a catch! They must have a high heel and be made out of suede.
Combine this elements and you'll end-up with a great slimmer and higher figure.
Photos. style.com fashionising.com